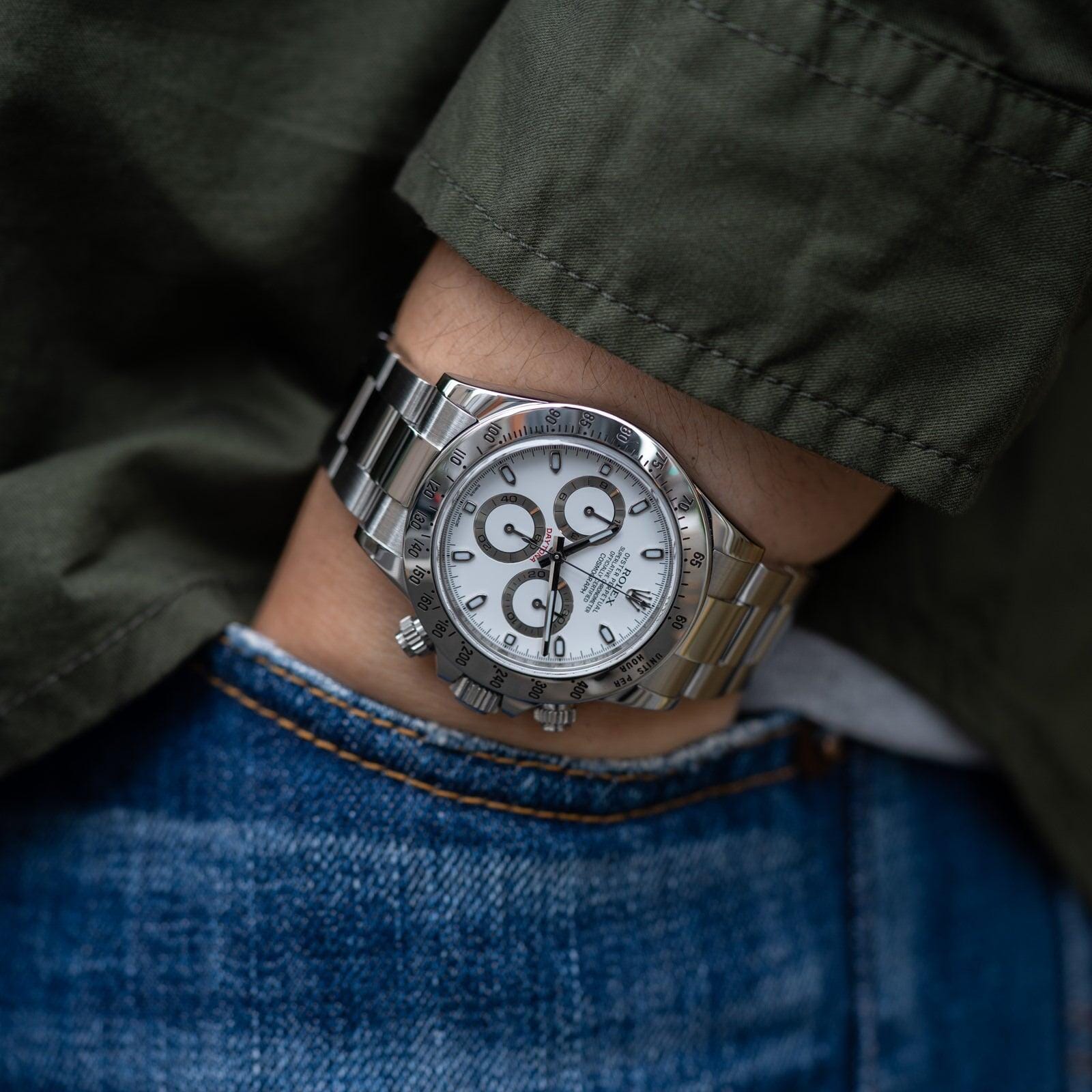 ROLEX COSMOGRAPH DAYTONA 116520 WHITE APH DIAL
Rolex Cosmograph Daytona 116520 White APH dials are in stock. p>
ROLEX COSMOGRAPH DAYTONA 116520 WHITE APH DIAL p>
p>
I like the current Daytona 116500LN because of its vintage design, but I really like the feeling of the 116520, which is one generation ago. p>
Chronographs come in a variety of models from different brands, but the Rolex Daytona is perfect in all respects. p>
p>
Personally, the biggest thing is that the size when I wear it is the best. p>
The case diameter is 40mm in numerical values, but the dial design and bezel seem to be tightly packed, so when you wear it, it feels like 38mm. p>
White looks a little bigger than black because it is an expanded color, but it is much more refreshing. p>
Perfect for the rough shirt in the photo and jeans.
p>
If I was told to narrow down to one of them other than dresses, I think it would be a Rolex Daytona. p>
The photo looks so good, but the real thing is definitely cooler. p>
Not to mention the watch itself, but I recommend this because it is comfortable to wear.
p>
The bracelet is a triple solid 78590 bracelet. This watch is a buckle type with a satin finish. p>
The feeling of wearing it is such an expression that it fits comfortably on the skin.
p>
It weighs about 145g, but the breath is comfortable to wear, so you don't feel that heavy. p>
p>
Rolex Daytona tends to focus on price, but once you use it, I think it's a watch that makes you think, "Oh, maybe this watch is all you need." .. p>