RICOH Dynamic Wide 25J DayDate
<!-Wp: paragraph->
RICOH Dynamic Wide Day Date 25 stones p>
Ricoh (RIKEN Optical Co., Ltd.) dynamic wide manufactured in the late 1960s and early 1970s.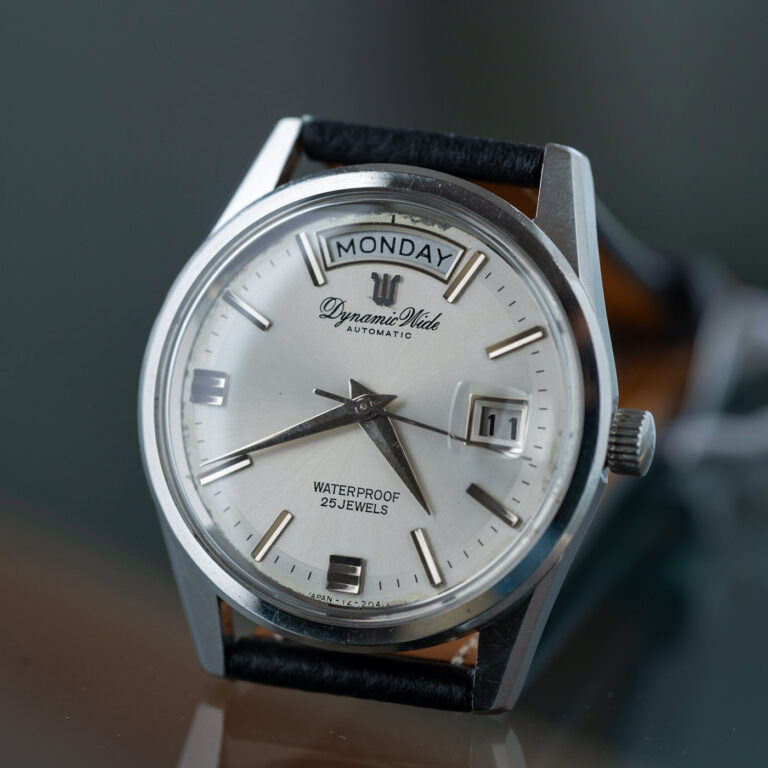 p>
Although it is in the name of Ricoh, the story behind it is hidden. To briefly introduce, he was originally a technician at TAKANO (Takano Precision Industry Co., Ltd.), and his management deteriorated due to the damage of the Isewan Typhoon in 1959. Will disappear. p> <!-/ Wp: paragraph-> <!-wp: paragraph->
It is said that the former Takano engineers created this dynamic wide after moving to Ricoh. p>
TAKANO was founded in 1899 under the name "Takano Clock Mfg. Co., Ltd." as a company that mainly manufactures wall clocks. p>
In 1913, a separate company, "Goshi Kaisha Takano Metal Products Mfg. Co., Ltd." was established. Company Takano Watch Metal Mfg. Co., Ltd. was established. p>
During the war, this Takano Watch Metal Mfg. Co., Ltd. manufactured not only watches but also electric appliances and weapons. p> <!-/ Wp: paragraph-> <!-wp: paragraph->
Established "Takano Precision Industry Co., Ltd." in 1938. p>
In 1959, just four years after the start of wristwatch production around 1956, the Isewan Typhoon devastated the Kasadera Plant in Nagoya, forcing it to suspend operations for a month and a half. rice field. p>
After that, it resumed, but the damage caused by the Isewan Typhoon was great, and due to the deterioration of management, it was absorbed by Riken Kogaku Kogyo Co., Ltd. (currently Ricoh) in 1962, and the brand "TAKANO" appeared. Takano, who had been manufacturing watches for only about four years, said that he had erased the watch, but it may not be well known that it was as highly rated as Citizen and Seiko. p> <!-/ Wp: paragraph-> <!-wp: paragraph->
The "Takano Chateau", designed and manufactured by Takano in 1959 and sold under the slogan of being the world's thinnest wristwatch, is still a popular watch with many fans. p>
It's exciting to think that the engineers who can make the thinnest movement in the world also designed and manufactured this Ricoh Dynamic Wide. P>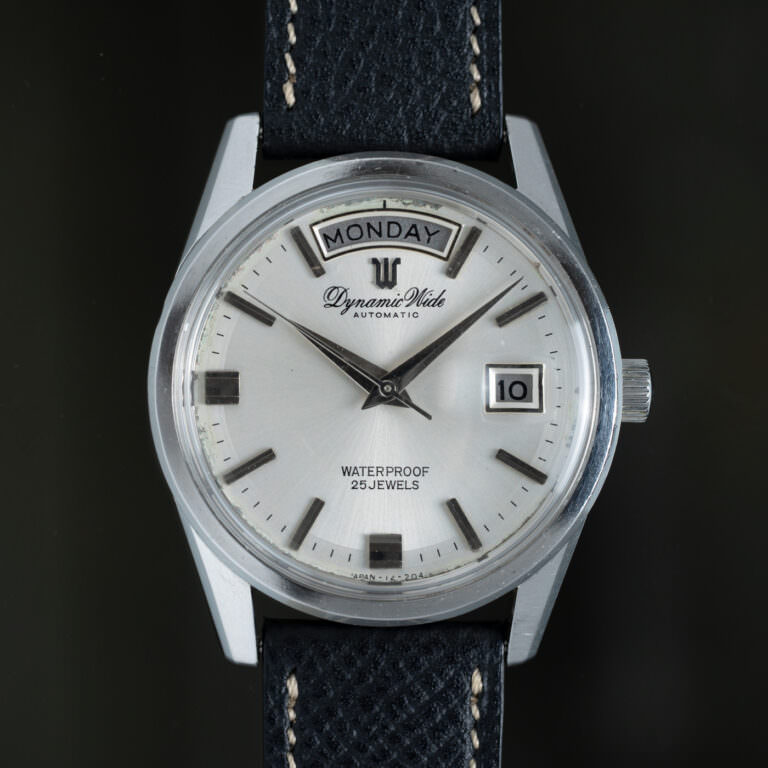 Ricoh Dynamic Wide, which has such a story, is a design that was greatly influenced by Rolex Day-Date. p>
A watch with such a fashionable design is made in Japan. p>
The clean design of the rug ◎ The case diameter is the same as the Rolex Day-Date, and the size is just right. p>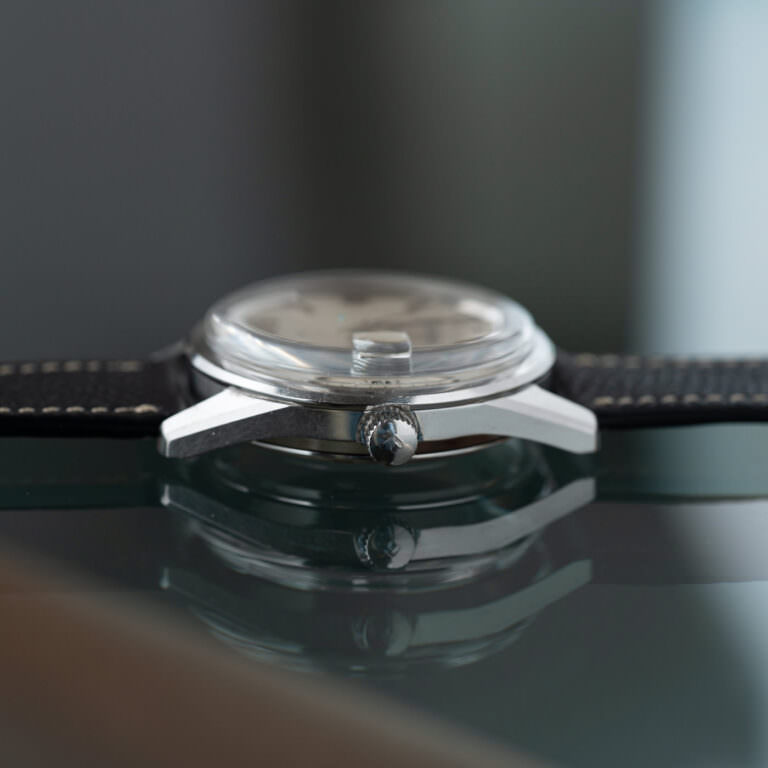 The crown is engraved with the RICOH "R". The windshield is also a chubby plastic windshield that seems to be of this age. The movement is self-winding with 25 jewels. It does not mean that the more stones there are, the better, but there is no doubt that the more stones there are, the higher the quality. p>

The role of this stone is to prevent wear (wear) of parts. The engraved "RICOH WATER PROOF ALL STAINLESS" means that it is made of stainless steel and is waterproof. p>

This is because it was sold as a "waterproof watch" at the time of its release, so the "snapback type (fitting type)" lid found in dresses etc. can be opened with an opener like a spatula. It is more waterproof than that. p>

As a guide when buying a vintage watch, if you choose a screw-back type (screw-in type) type back cover or a one-piece watch like this watch, you will sweat for everyday use. It's okay to think that something can be done to some extent. (It depends on the degree of deterioration of each case.) There is no movement problem because the craftsmen have overhauled the vintage domestic watches of the 1960s. p>

Not many people know the domestic brand Ricoh, but there are many good domestic watches. p>

It is also good that it is easy to get out of hand in terms of price. p> <!-/ Wp: paragraph->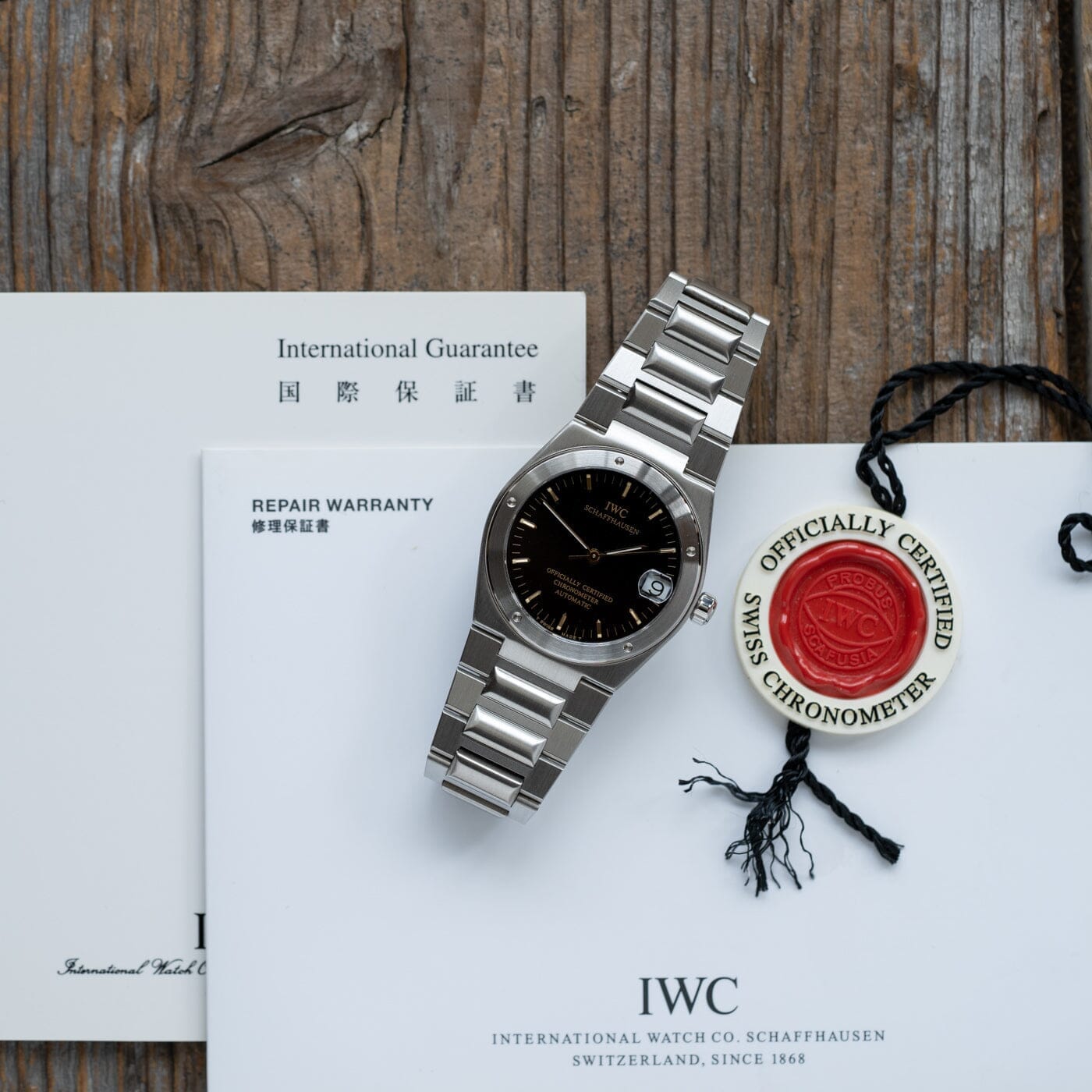 How To
IWC Ingenieur Instruction Manual
IWC Ingenieur 3521 Black 1990s Ingenieur Ref..3521 Black 1990s Ingenia has been sold several times in the past, but I think there are many people who have never seen the instruction manual. ...
Read more