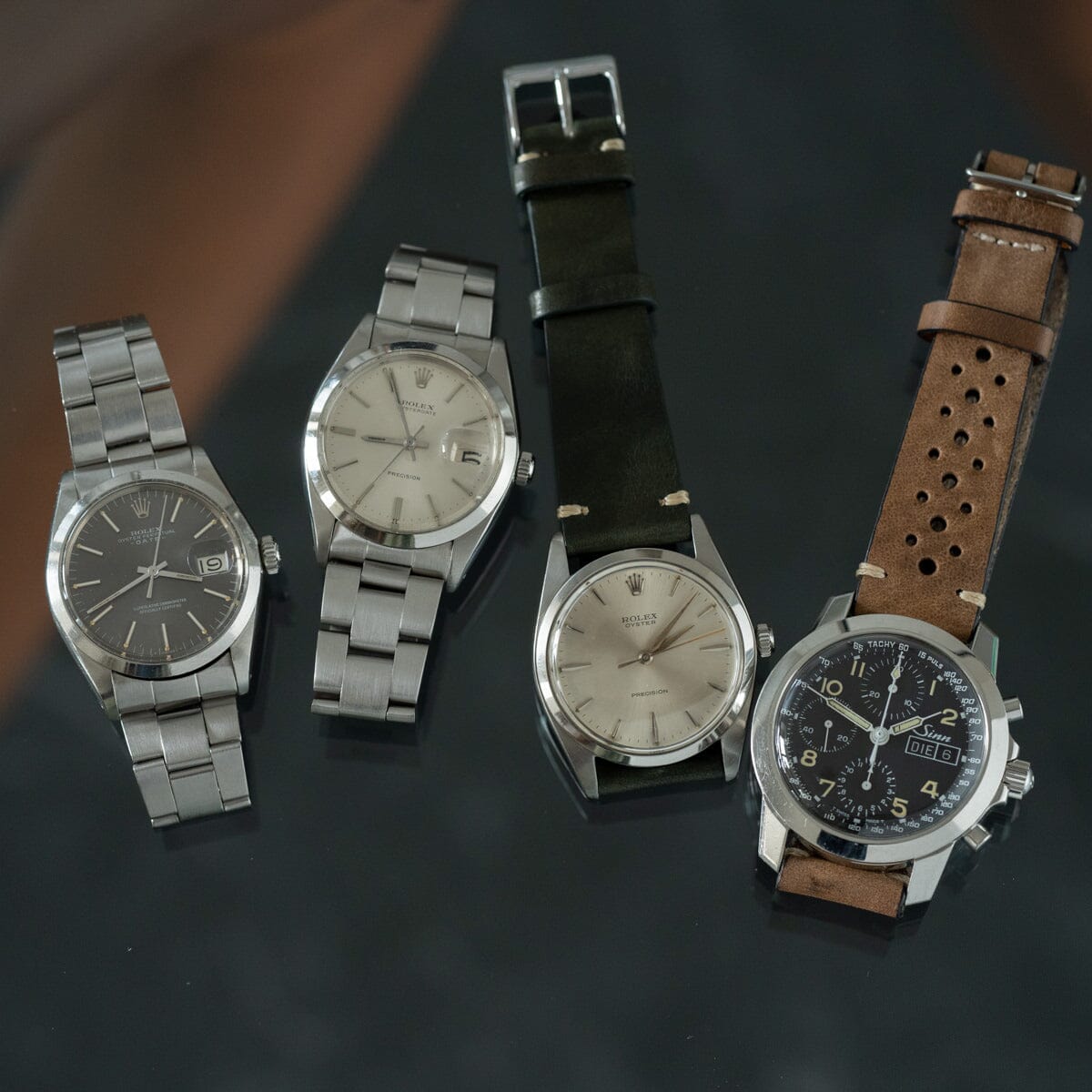 New Arrival Watches
Three Rolex watches and chronograph SINN, mainly hand-wound, have arrived for the first time in a while.
From the left
・ ROLEX OYSTER PERPETUAL DATE 1500 GRAY DIAL 1970s

・ ROLEX OYSTERDATE PRECISION 6694 1950s

・ ROLEX OYSTER PRECISION 6424 "BIG OYSTER" 1950s

・ SINN 103.B.AUTO.POL.TY 1990s

Both the Precision "6694" with Rolex Date and the Big Oyster "6424" with a 36mm case are hand-wound Rolex. (( Recently, the number has decreased)
ROLEX OYSTERDATE PRECISION Ref.6694
ROLEX OYSTER PRECISION Ref.6424 "BIG OYSTER"
Speaking of Rolex, the main thing is self-winding, which is named Perpetual, but the manual-wound movement is as good as the self-winding, and it has an analog feel.
After all, the hand-wound movement has a simple structure, so the case is thin and the running cost at the time of overhaul is basically lower than that of automatic winding.
It's a place where automatic winding doesn't have the analog feeling of enjoying the work of "winding up" by hand, just like listening to music on vinyl in an era where you can listen to music with a subscription.
Both the Precision 6694 and the Big Oyster 6424 that arrived this time are watches manufactured in the 1950s, about 70 years ago.
It doesn't look like that at all. In particular, the Big Oyster was manufactured in 1952 (about 70 years ago), but since it has been overhauled by Airy's, it has also been inspected for a waterproof function of 5 atmospheres (50 m). (There is no guarantee of waterproofing.)
It's a Rolex watch, isn't it? Even if the watch was 70 years old, it can still be used in 2021 if it was well maintained and used carefully.
It involves movements other than the figurines made 70 years ago, and I can't think of anything that can still be used. If it's a car, I think it's a pretty classic car.
Rolex is also recommended for those who are new to vintage watches.
Sturdy, sophisticated design and long lasting. Moreover, since it is a watch that is distributed all over the world, there are abundant parts for repair.
There is no reason not to recommend it.
And next is the automatic winding of Oyster Perpetual Date "1500" Cal.1570 (with hack).
ROLEX OYSTER PERPETUAL DATE Ref.1500 GRAY DIAL
Ref.1500 movement Cal.1570 is a chronometer version of Cal.1520 (non-chronometer).
(The above photo is of another individual)
Cal.1570 was manufactured from the mid-1960s to the late 1980s, but those made in the 1960s did not have a hack function, but those after the 1970s have a hack function. .. (The hack function is a function that stops the second hand when setting the time.)
With the hack function, it is possible to set the time more accurately.
Since there are smartphones in modern times, it may not matter whether or not there is a hack function, but at that time even mobile phones were not common, so it was worthwhile to set the time accurately. ?? You can imagine that.
The round luminous at the end of the index bar is cute. Can you see that it has changed to a nice cream color because it is tritium luminous?
The luminous of both the hands and the index remains beautiful as it was at that time. There is a vintage feeling and it is irresistible.
The case size is 34mm, so if you like a small size, and you can recommend it to both men and women, this watch is good.
There is also a roll-up breath that matches the age of the watch. The breath of the design only in this vintage is light.
The watch itself is light, but it is quite light even with the breath on.
There is no doubt that people who usually wear watches such as Submariner and Speedmaster will be "light" when they wear this watch.
Finally, a vintage chronograph. SINN 103.B.AUTO.POL.TY in the 90's using tritium luminous paint.
The recommended point of this Sinn 103.B.AUTO.POL.TY that arrived is that it is from the era when tritium luminous was used.
Next, "Sinn You can find it by searching for "103.B.AUTO.POL.TY". I think that only the ones with "Automatik" (German) written on the 6 o'clock counter will appear.
The "T SWISS MADE T" model, which indicates that this "Automatik" does not exist and uses tritium luminous, is quite rare.
The model "103" itself was born in the 1960s, but this "1" 03.B.AUTO.POL.TY "is It was in production until around 2012.
Many people may think of a chronograph as a mess, but with a simple plain bezel, a black-based dial and a 40mm case size, it looks pretty crisp.
I did a partial repair at the manufacturer. At that time, the acrylic windshield and crown are replaced, so it's safe.
It's a pity that it's hard to convey this coolness in the photos, but the real thing has a pretty atmosphere.

All of the above four are vintage watches that can be used in the coming season.
There are no two watches in the same state, and I think that watches with elements that are unique to this watch have arrived.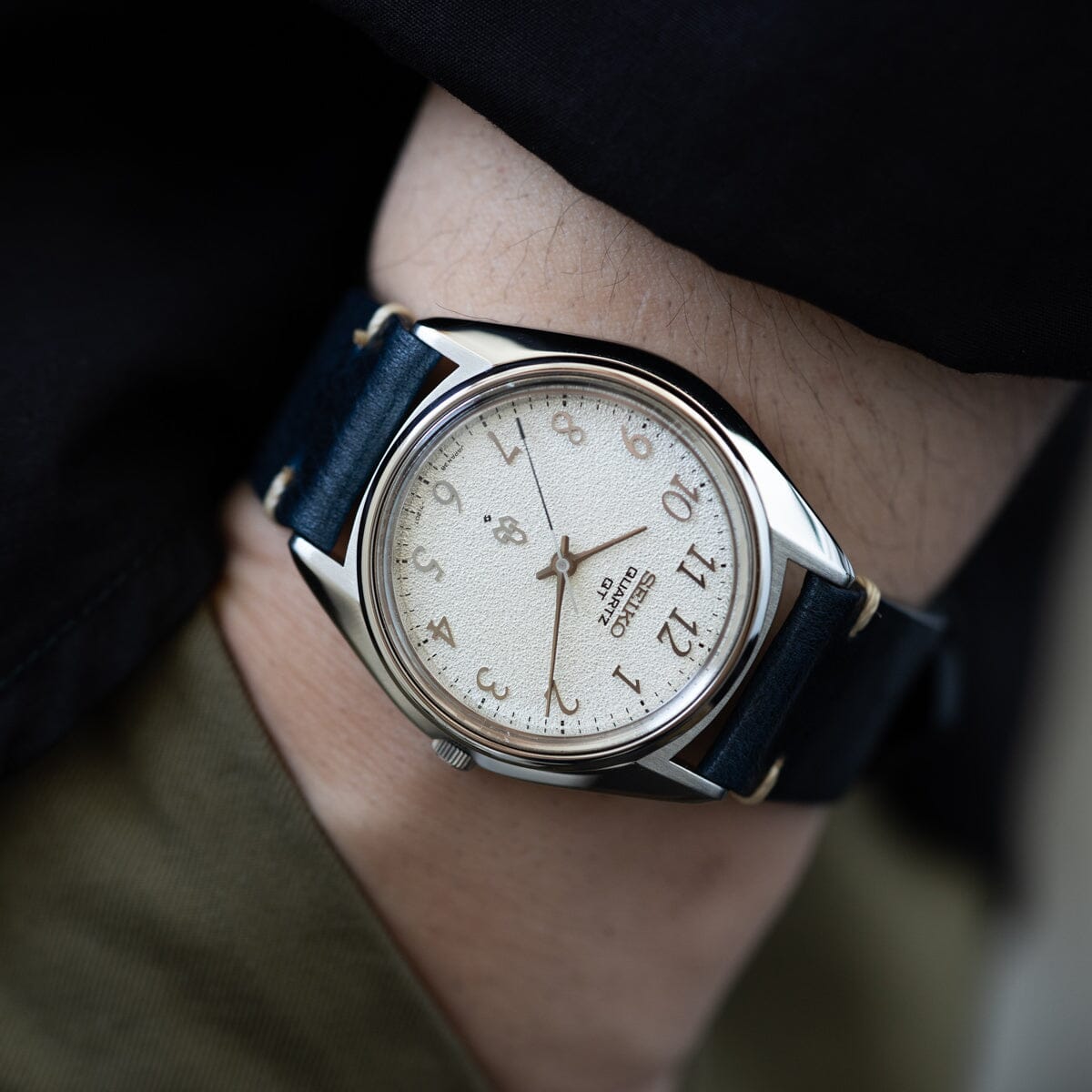 SOLD
SOLD IWC Pilot's Watch Mid Size
IWC PILOT'S WATCH MID SIZE is sold out. Purchased at the store. thank you. IWC's Pilot's Watch Collection began in 1948 with the Mark 11 Navigation Watch, built for the British Air Force...
Read more